Welcome to my personal web site!
Here you'll learn all about me: my interests and hobbies, the people in my family, and more. I've even included my resume and a list of my favorite links to other sites.
This page is the "doorway" to my site. My resume outlines my background and my geneology page summarizes my family history. In addition to those items, I am also a sailor and sometimes sailboat racer, a computer consultant and photographer.

Please sign my guestbook with any comments or reactions you have to my site. You can also contact me privately. I love to get mail!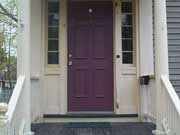 Welcome, come on in.
What's New?
Here I might add an entry whenever I make an update to my web site. Where appropriate, I'll include a link to the change.
12-30-01 Updated and posted resume.
12-30-01 Posted genealogy. This is a recently compiled work done mostly by my mother. It does need editing; however, it includes links and dates not previously published. Therefore, in spite of it's roughness, I went ahead and uploaded it.